Dear Loyal Supporters
Girl's Education
I've just returned from another very moving visit to our projects in Tanzania. We went to visit one of the primary schools and the children in year 6 sang us a song. The verses were written and sung by the 11 year old girl, standing on the picture below, and the class came in with the chorus. She sang:
Why does Our tribe marry us as girls?
before our future unfurls
Other tribes and nations let girls complete school
Why do we have a different rule?
Our bride price is high
But we want the sky
For 6 cows we are sold
To men who are old
We have babies ourselves before we are grown
Our future is not our own
Please help us in our plight
As for our futures we fight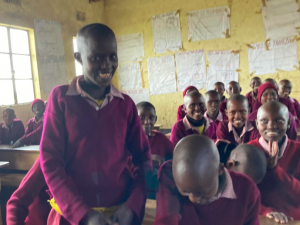 These girls will be married soon if they do not get sponsorship for secondary school. And as you can see in the words of their song, this is not what they want. With your support WTWT will try to fund all these girls who pass the exam for secondary school and don't have the money to pay their expenses.
Another moving experience was the response from the women who had received loans and education in business, literacy and health. Some women from the distant villages in Ngoile ward, below, walked 25km to see us.
They arrived with dances, songs, confidence and happiness, despite the difficulties running their businesses in this arid area. These women are determined!

We are very grateful be working with Womens' Microfinance Initiative http://wmionline.org  and Maasai Partners https://www.maasaipartners.org/ on these projects.
We are hugely grateful for all your financial support and encouragement. Without you we could not do any of this.
As always, our expenses and administration are paid by ourselves, so all of your donations go directly to the community projects.
With much love and thanks
Rachel and WTWT trustees here in the UK and our teams in Tanzania
Rachel, David and Daniel Blackmore, Tim Shewbridge, Ruth Mason, Suchita Raja, Viv Pangalos and Helen Williams in the UK
Ponja Tayai, Sunguyo Sindiyo, Sinyati Ngamuriaki, Embapa Oloishiro, Peesoi Runguna, Mary Mirimu, Kisiaya Saruni, Sandey Kinyanjui, Kileto and Supeet Olepurko in Tanzania
If any of you would like to make a donation to our projects or set up a standing order, we would be extremely grateful, as would the people in Ngorongoro:
Our bank account is: 'Weston Turville Wells for Tanzania' at Lloyds TSB, account number:  00087400, sort code 30-90-38.
Cheques can be made payable to 'WTWT' and posted to our address:
Old Crown, West End, Weston Turville, Aylesbury, Bucks, HP22 5TT
Weston Turville Wells for Tanzania (WTWT)
Registered UK charity No: 1125141
Registered office: Old Crown, West End, Weston Turville, Aylesbury, Bucks, HP22 5TT
Email: racheljblackmore@gmail.com
Phone: +447792 475094
Weston Turville Wells for Tanzania (WTWT)