Dear All
I thought you might like to see these moving and encouraging words from Naseku, who received a loan from us at WTWT in collaboration with Women's Microfinance Initiative (http://wmionline.org/) in October 2015: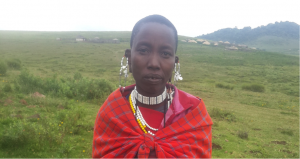 My name is NASEKU PATEL. I am aged 38, a mother of six children. MY husband is married with two women including me. Our family life has been deteriorating since my husband started drinking alcohol back 1999. He sold all our cows and goats and nobody stopped him until he finished all. We could not say a word to him when selling as he beat us.
I can see my family life changing now since I took the loan. My husband can talk to me and listen when I have a word to say. He still drinks but not as before as I encourage him to change such an addictive habit.
My children put on good clothes and shoes like the children from resourceful families. Therefore, I feel proud and determined to perform better in future when have more business loan.
I thank WTWT and WMI for supporting us with loans. It was my first time to have such huge amount in my hand of which I thought I will not manage to handle but thanks to prior training we received before we get the loan money I do manage. I buy big sacks of maize at discount cost from suppliers who come to our village, then I sell it in smaller amounts to women in my village. We are not allowed to grow vegetables in our area because of conservation rules from the Ngorongoro Conservation Area Authority and so we depend on this maize.
My God bless you all who have contributed and shared their money with us!
Mekitamayiana Engai  (God bless you)
http://wellsfortanzania.org/wp-content/uploads/2016/06/Naseku.png
515
974
Rachel Blackmore
http://wellsfortanzania.org/wp-content/uploads/2014/12/logo-wtwt-bl-300x75.png
Rachel Blackmore
2016-06-09 15:30:27
2019-05-01 13:56:44
2016 June Naseku's Loan Biography